We don't sell what we have, we sell what you need!

Global PipeLine Solutions NV

Which markets do we supply?

Oil and gas
Petrochemical
Cryogenic
Offshore
Automotive
Global PipeLine Solutions (GPLS) provides world-wide solutions to offshore, petrochemical, nuclear, gas and power plant industry with all grades of stainless steel, duplex steel, nickel alloys and titanium.
Our motto: Be the best in high quality, short delivery time and extreme requirements.
We are experts in materials with EN10204/3.2 certification by Lloyd's Register and DNV.
Over the last 4 years more than 100  EN10204/3.2 third party inspection by Lloyd's were performed successfully on our products.
We have a lot of experience in urgent production (emergency production) and express deliveries by air, boat or road.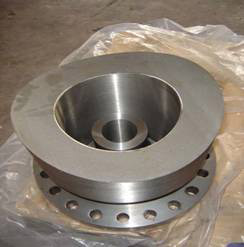 Forged nozzle ASTM B564 as per drawing in inconel UNS N06600.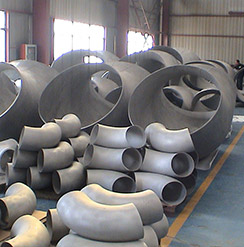 Seamless and welded WX fittings in DIN in 1.4307 (304L) and 1.4404 (316L) with EN10204/3.2 inspection and ferrite max. 3% on the weld.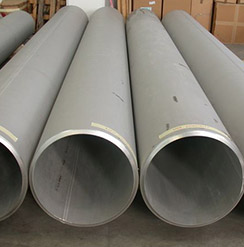 Welded pipes ASTM A358 class 1 in 904L with special WPS/PQR requirements as per client's specification.
Major Products :
Flanges, forging, fittings, pipes and tubes in stainless steel, nickel alloys and titanium
Welded, welded WX or seamless
As per ASTM, ASME, DIN, EN, UNS, BS, API, MSS, AD-W
From 1/4'' till 96'' (4mm till 2400mm)
Thickness from SCH 5S till SCH 160 (SCH XXS)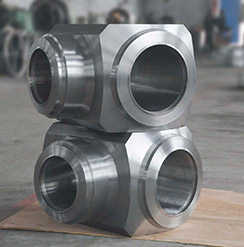 Forged valve bodies in P92 and WB36.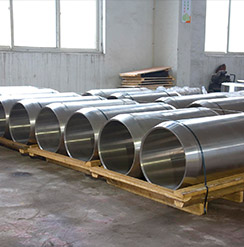 Forged pipe / forged bushes as per ASTM A182 in 347.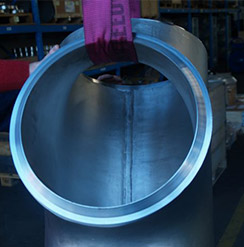 Welded WX T-piece of 16'' SCH120(30,96mm) in 321H with impact test at -196°C (41J), 100% ultrasonic and 100% dye penetrant and EN10204/3.2 inspection (delivery time : 3 weeks with air freight).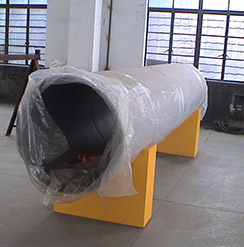 Seamless pipe ASTM A312, ASME B36.19 36'' SCH10 (914,4 x 7,92mm) in 316Ti (1.4571).
Major stainless steels :
ASTM / UNS: 304, 304L, 316, 316L, 321, 316Ti, 304H, 321H, 316H, 347, 347H, 317, 317L, 310(S), 309(S), 314, 316LMo, 410, 446, duplex S31803 / F51, superduplex S32750 and S32760 / F53 / F55, 904L, 6Mo / S31254 / F44 / 254SMO
DIN /EN: 1.4301, 1.4306, 1.4307, 1.4401, 1.4404, 1.4541, 1.4571, 1.4948, 1.4878, 1.4919, 1.4550, 1.4449, 1.4438, 1.4828, 1.4833, 1.4841, 1.4435, 1.4436, 1.4006, 1.4749, 1.4462, 1.4410, 1.4501, 1.4539, 1.4547, 1.4529
Major nickel alloys and titanium :
Nickel 200 (UNS N02200), monel 400 (N04400), inconel 600 (N06600), inconel 625 (N06625), incoloy 800 (N08800), incoloy 825 (N08825), hastelloy C276, hastelloy C22, alloy 20 (N08020), alloy 28 (N08028), titanium grade 1, titanium grade 2, titanium grade 5, curponickel and zirconium, tantalum.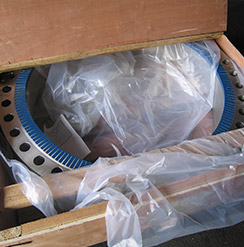 Flange ASTM A182 ASME B16.47 serie B 300 lbs RTJ 44'' in 347H.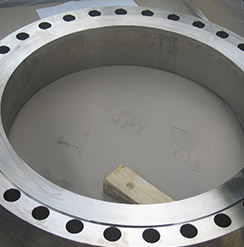 Flange ASTM B564 as per drawing DN800 in UNS N08810 (incoloy 800H).
All products are produced by first class manufacturers which are ISO9001 and PED approved by European Notified Body.