Internal polishing
Internally polished pipes and fittings in stainless steel.
The products are widely used for pharmacy, chemical industry, food industry, oil and special industry.
Accuracy of work finish can reach Ra 0,1 – 0,05µm.
The polishing can be done on tubes and fittings with outside diameter of 14mm till 2500mm (96").
Also internally mirror polished pipes and fittings.
All roughnesses, rugosities are checked with Mitutoyo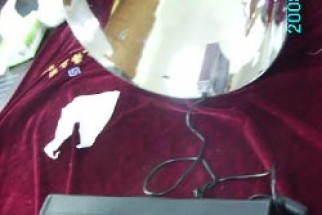 Checking the rugosity with Mitutoyo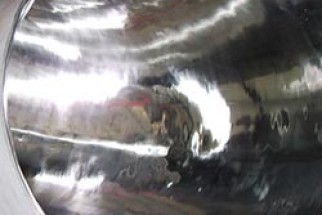 Internally polished welded elbow of 24" SCH40S in 304L. The internal rugosity is maximum 0,3mµ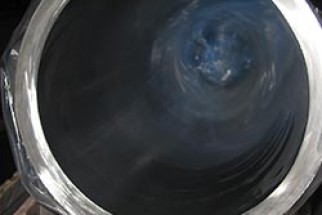 Internally polished seamless pipe of 16'' x 28,5mm min. wall. The internal rugosity is maximum 1,0mµ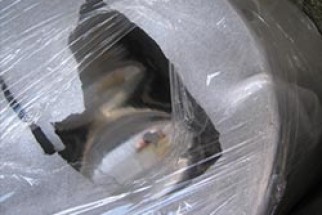 Opened packing of an internally polished T-piece of 32" SCH10. The internal rugosity is maximum 0,3mµ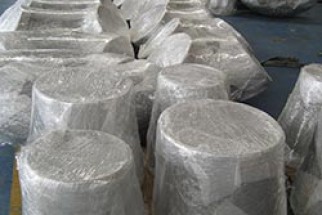 Packed internally polished fittings ready for shipment. The internal rugosity is maximum 0,3mµ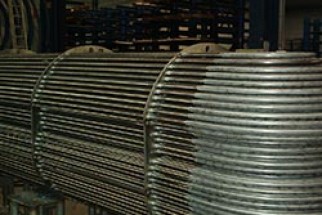 Finned heat exchanger bundle
Integrally finned tubes by low finning
Integral low fin tube for use in situations where extended surface is required, but lack of space or heat exchanger type dictates otherwise.
Available materials are stainless steel (304L, 316L, 321(H), 304H, 310, …), duplex, copper alloys, nickel alloys, hastelloy and titanium.
Integral Low Fin Tube has the advantage that it can improve the thermal performance of a heat exchanger without the necessity for changing shell size, flow arrangement or the repositioning of piping.
The external surface of the tube is increased by the formation of "low fins" by direct extrusion from the material of the base tube.
Size range / Dimensions
Tube size: 12,7mm, 15,88mm, 19,05mm and 25,4mm
Fins per inch: 16, 19, 26, 28, 30, 32, 36, 40 and 43 fins/inch dependant on material
Quality test capabilities
Non-destructive eddy current examination
Air under water testing
Hydrostatic testing (with fluorescent dye)
Fin profile examination at 50x magnification
Dimensional & ring gage checks
Applications
Refrigeration, air conditioning, condenser, heat exchanger, boiler
Norms
ASME pressure vessel code Sec.8, UG-8 and Div. 1 appendix 23
ASTM B891
Standard Specification for Seamless and Welded Titanium and Titanium Alloy Condenser and HeatExchanger Tubes With Integral Fins
ASTM A1012
Standard Specification for Seamless and Welded Ferritic, Austenitic and Duplex Alloy Steel Condenser And Heat Exchanger Tubes with Integral Fins
ASTM B924
Standard Specification for Seamless and Welded Nickel Alloy Condenser and Heat Exchanger Tubes With Integral Fins
ASTM A498
Standard Specification for Seamless and Welded Carbon, Ferritic and Austenitic Alloy Steel Heat Exchanger Tubes with Integral Fins
ASTM B359
Standard Specification for Copper and Copper-Alloy Seamless Condenser and Heat Exchanger Tubes With Integral Fins